Big Easy Mopar Association - BEMA
Mopar or No Car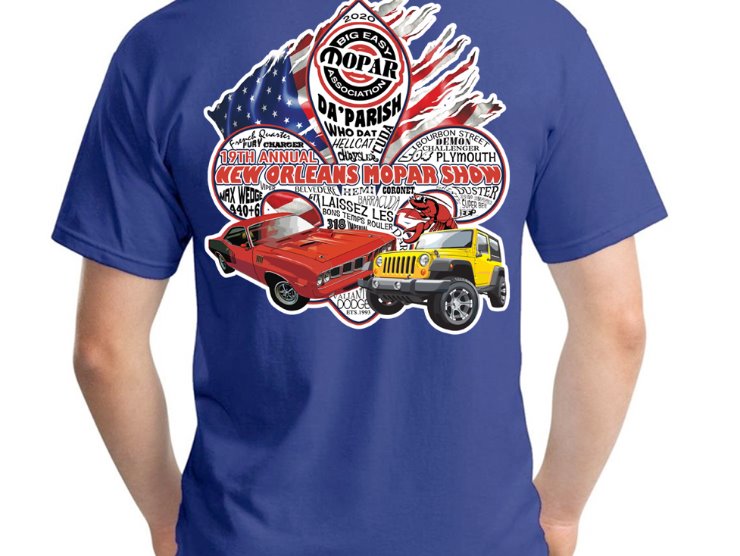 OUR PURPOSE
Big Easy Mopar Association, aka BEMA, was formed in August 2001 with the purpose to promote and encourage the collection, restoration, preservation and ownership of Chrysler Products, which include Chrysler, Dodge, Plymouth, Jeep and AMC vehicles and provide a means of fellowship between the owners of such vehicles and their respective families. Chrysler Products being defined as Mopar Titled and "Mopar Powered." We are a non-profit organization.
Membership in the Club shall be considered to include the member's immediate family for purposes of Club activities.
If you are interested in becoming a member, first and foremost, you must own a Mopar.

You can pay your:
Dues
New Orleans Mopar Car Show
MoparFest at the Battleship
Dues for the immediate family
New Orleans Show t-shirts are only available in person now
NO MORE PRE-ORDERS
1st come 1st get
We have packed up and are ready for the show - So if you have not already registered - please do so on Saturday 3/15 starting at 8 am.
2020 MoparFest at the Battleship Application
MoparFest Friday Tour & Dinner
Pre-Order MoparFest t-shirt $15 - please email size to bigeasymopar@gmail.com
BIG EASY MOPAR - SO MUCH MORE THAN JUST CARS
Big Easy Mopar Association is not just cars, cruise nights, and meetings. Although our cars are our 1st love, we are also a lot of other things.
We are about family and friends, we encourage you to bring your significant others and kids. We have kids gifts at every meeting just for them showing up.
Events to Look for:
Big Easy Open Cruise Night - First Saturday of each month March to November - 6PM to 9PM
Annual Big Easy Car Show - March of each year drawing over 150 Mopars from all over the country
MoparFest at the Battleship - Last Saturday in April

Membership Meetings - First Tuesday of February, April, May, June, August, October, & December at
Piccadilly on Clearview Parkway with gifts for the kids and raffle prizes.
We have good times also:
Dinner get togethers either member paid or club paid
End of year membership crawfish boil/bbq
Pot Luck Christmas party
We also give back:
Big Easy each year donates a portion of the proceeds from the show to charity. Recent show proceeds
have gone to Childrens Hospital.
This is just example text. Click on this paragraph to edit and add your own content. This area is a great place to provide website viewers with any details on how, when or where to contact you. Be sure to include any details you want your visitors to leave in the contact form of this section.
New Orleans Mopar Car Show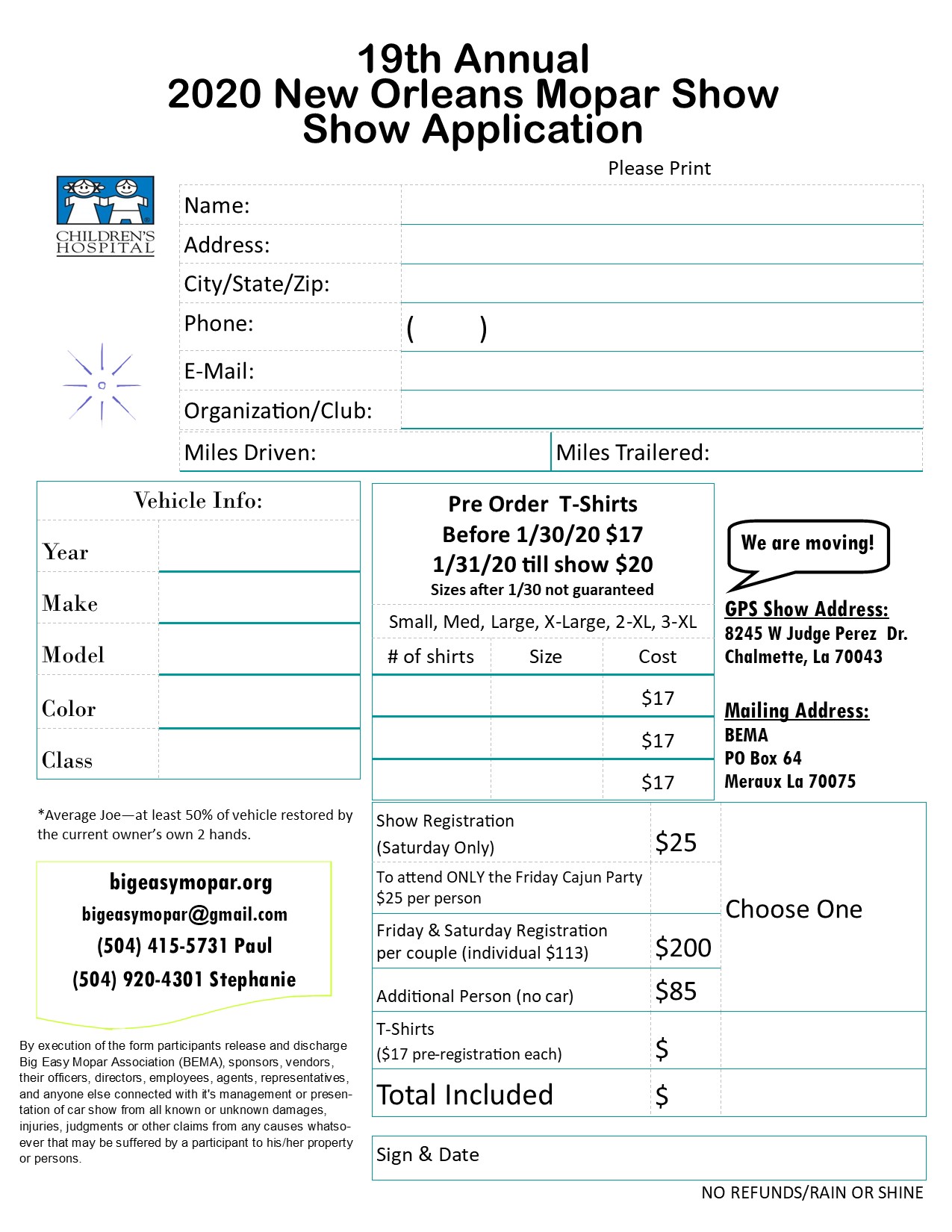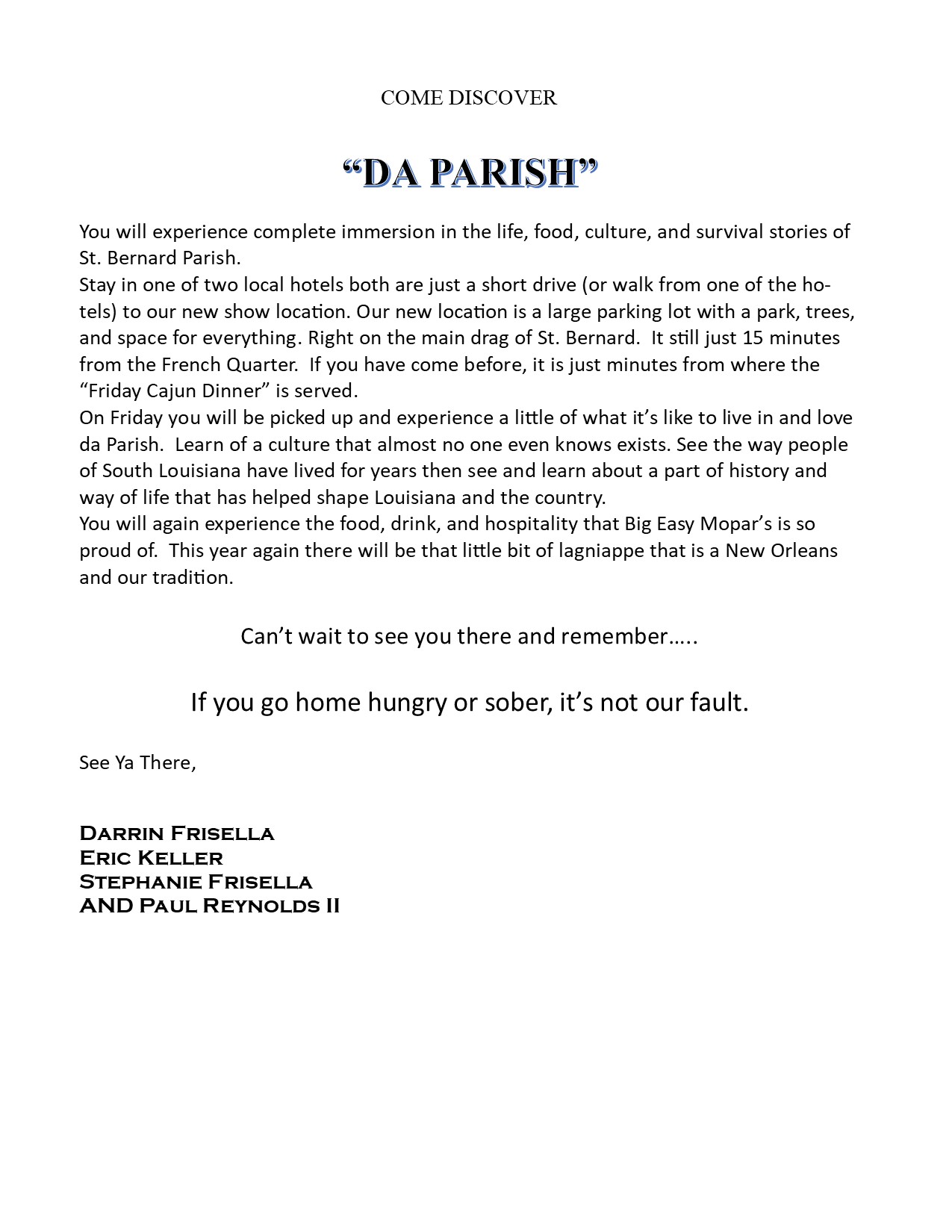 MoparFest at the Battleship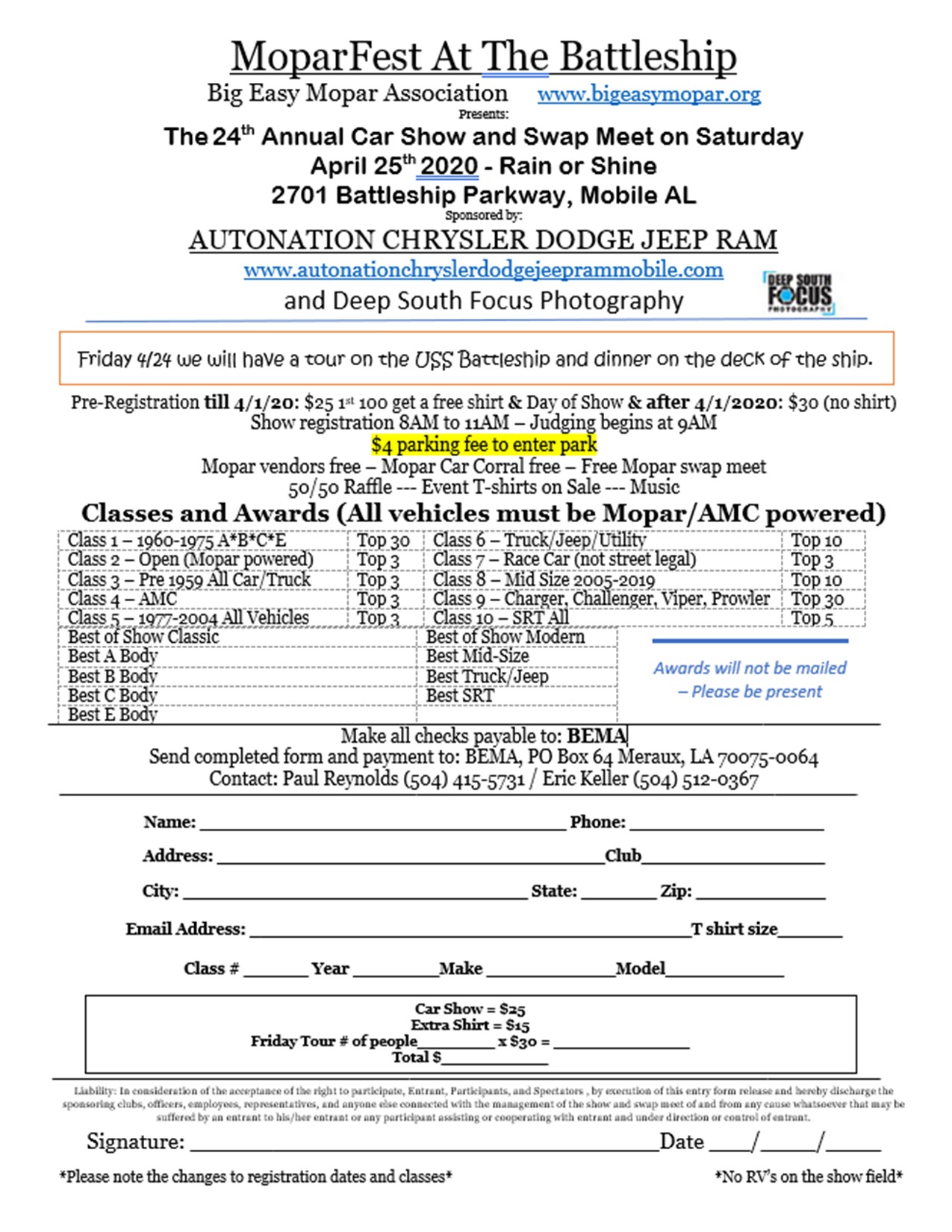 If you want to do the tour of the Battleship and dinner on the deck, you must pre-register, there will not be any spots available on the day of. Please be there by 2pm.